Placencia's annual Lobster Fest may have been canceled by Coronavirus for 2020 but that does not mean that we are not excited about the opening of lobster season and the abundance of yummy lobster dishes that will be available. If you live in Belize and are ready for some lobster then we have just the thing for you... Placencia Lobster Crawl.
This 2-day event is a self-paced, self-guided lobster tour of 5 Placencia restaurants with a lobster snack at each, plus an optional drink if desired. The partner restaurants are:
Placencia Beach Club
Rick's Café
Barefoot Beach Bar
Kitchen 2 Table
The Shak
Join us June 27th & 28th, celebrate the start of Belize's lobster season, and enjoy some great food and drink.
NOTE: All rules regarding wearing of masks and social distancing that are in effect on the dates of the Lobster Crawl are to be observed by all participants.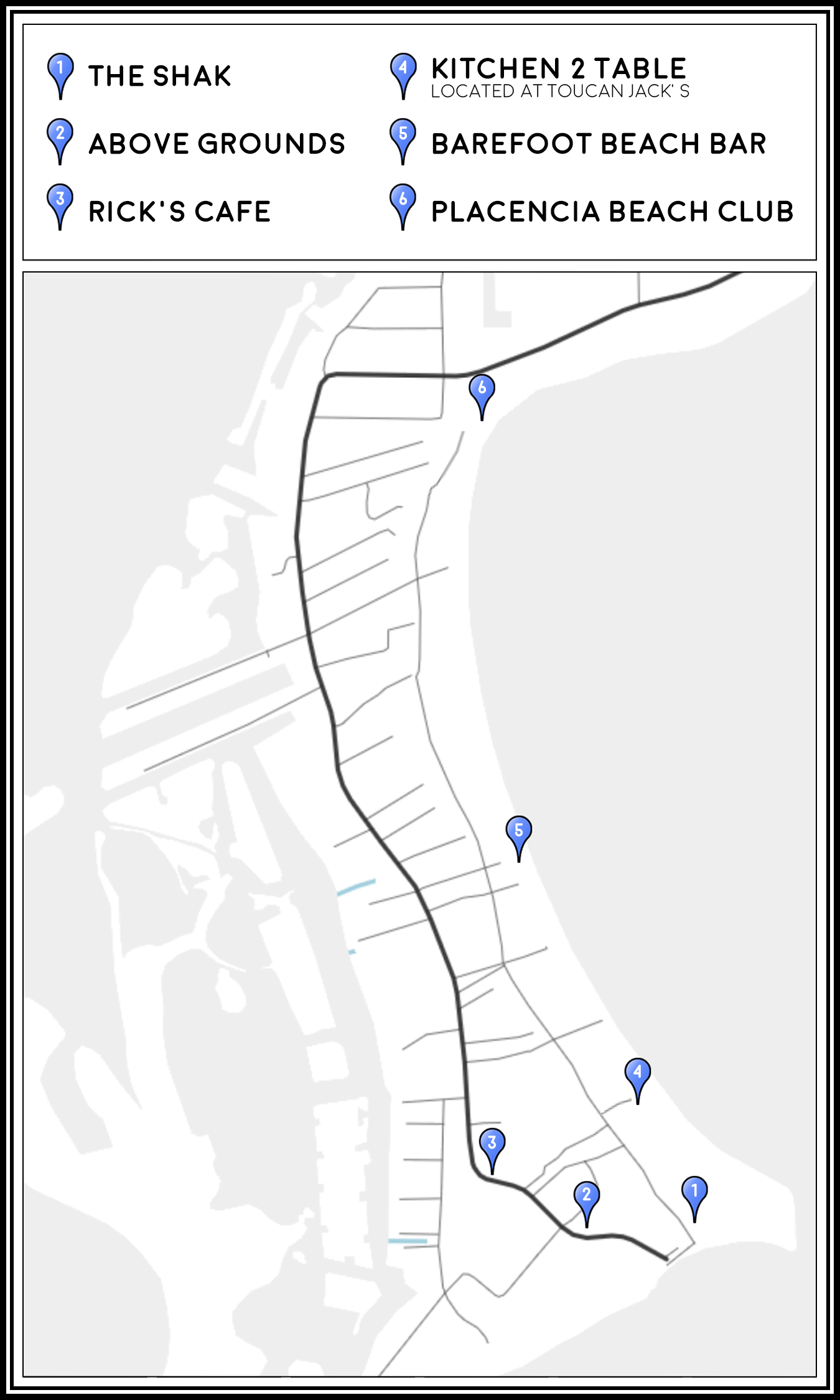 MAP
The Placencia Lobster Crawl was designed to be a walkable (or crawl-able) event. You choose where to start, and what order you'd like to visit each location. Here's what you need to know about each location:
Above Grounds - If you have a Lobster + Drinks ticket, stop in here and get $5 off any beverage.


Barefoot Beach Bar - Serving their famous Li' Lobster Grilled Cheese, and a Watermelon Bliss.


Kitchen 2 Table - Located at Toucan Jack's Tiki Bar, enjoy Smoked Lobster Dip with chips and a Toucan Jack's Rum Punch.


Placencia Beach Club - Enjoy a Lobster Cake with Remoulade Sauce and a Lobster Goat Cheese Cigar with Chili Peanut Sauce. Paired with a Mojito.


Rick's Café - Your choice of Lobster Chowder or Lobster Ceviché and an Aperol Spritzer.


The Shak - Eat Lobster Fritters and enjoy a Bikini Bottom drink.
Please note that the drinks listed above are only included with the "Lobster + Drinks" ticket option. If your do not have the drinks option, you can always purchase these drinks as you go.
GOT QUESTIONS?
Get all your questions answered here. If you don't see the answer you are looking for, send us an email HERE and we'll get you and answer right away.
No. This is a self-guided, self-paced lobster crawl. You can stop at all 5 restaurants in a single day, spread them out over both days of the event, or buy 2 tickets and hit them all up each day! How fast you go, and the order you go in, is up to you.
All of the restaurants on the Lobster Crawl are within walking distance from each other. If you started at The Shak (down by the Placencia Pier) and ended at Placencia Beach Club (northern end of sidewalk) you will have walked almost a mile and will have passed the other 3 restaurants along the way.
Yes, this is a ticketed event. In fact your ticket will be what you use at each restaurant to claim your lobster snack and drink (if you have the drink option.) Tickets also help each of the partner restaurants ensure that they have prepared enough of their lobster dish for all of the guests they are expecting.
Tickets can be purchased starting the week of June 15th at any of the partner restaurants. If you are coming from outside Placencia, or just want to make sure you get your ticket, you can reserve your tickets HERE.
If you fall in love with the lobster snack, or beverage, at one or more of our partner restaurants, they will be happy to fix you up with more. Simply ask your server for more information, and if they are running any other Lobster Crawl specials you should know about! Remember, you have 2 days to complete the crawl so don't pass up the opportunity to enjoy more of your favorites along the way.
No. However, based on the social distancing guidelines in effect during the event, there may be a limit on the number of people that can be at each restaurant at a one time. The beauty of this event is that if the restaurant you were trying to visit is full, you can move on and come back later!
No. Tickets are sold per person and no sharing will be allowed. The food will be so good you won't want to share anyway!
ACCOMMODATIONS
Thinking of visiting Placencia from somewhere else in Belize for the Lobster Crawl? Here is a list of partner accommodations to consider as you look for a place to stay while you are here (hover / tap each listing to see the details of their offer).
Interested in being an accommodations partner? Click here.
OCEAN BREEZE
A family owned & operated, luxury, beachfront resort located on the beautiful beach in the heart of Placencia Village
OFFER
Cabanas: $258 BZD
Studios: $178 - $278 BZD
Price DOES NOT include 9% hotel tax.
INN THE TREES
Boutique vacation rental cabanas with air conditioned bedrooms and a loft-style living room with a 2-person sofa bed. Located in the Surfside community.
OFFER
3 Cabanas Available
$130 BZD / Night
Price include all fees & hotel taxes
CALL 671-2310 TO BOOK
COCO'S BEACHFRONT CABANAS
Air conditioned cabanas located directly on the Sea! Located at mile marker 18 on Placencia Road
OFFER
$125 BZD / night
$700 BZD / week
Price DOES NOT include 9% hotel tax.
A BELIZEAN NIRVANA
A boutique, all-suite hotel in the heart of the Placencia Village on the beach, or as we say in our native tongue "pan da beach".
OFFER
Beach Suite - $217 BZD
Includes hotel tax and service charge, parking, continental breakfast for up to 4 people.
JULIA'S CABANAS
Located right on the beach in the heart of Placencia Village.Boasts a fully fenced property and a pristine beach with an unmatched view of the beautiful Caribbean Sea.
OFFER
Options available for $125 BZD, $135 BZD, and $150 BZD / night.
Hotel tax NOT included.
CARIBBEAN BEACH CABANAS
2019 Travel & Hospitality Magazine's Beach Front Hotel of the Year. Placencia Village's only adults-only boutique resort.
OFFER
50% off normal rates through July 15th.
Price DOES NOT include 9% hotels tax. No added service or resort fees.